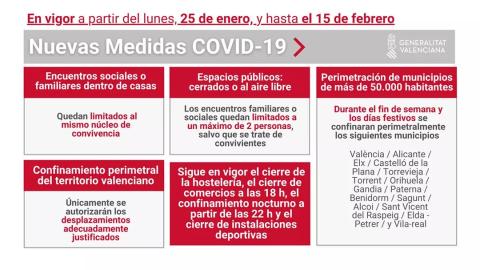 From Monday 25 January, these will be the new measures to be applied in the Valencian Community until 15th February

Social or family meetings within homes: They are limited to the same nucleus of coexistence

Public spaces: closed or open-air: Family or social gatherings are limited to a maximum of two people, unless they are cohabiting
-Closing of bars and restaurants. Except service to take away, to be distrubuted on the restaurants as a delivery or pick up service.

-Closing of shops at 18h. Except for food establishments, pharmacies and essentials.

-Night confinement from 22h. The Government of Spain will be requested to advance at 20h.

-Perimeter confinement of the Valencian territory. Only properly justified movements will be authorized.

-Limitation of groups in public and private spaces. The maximum number of people in social or family meetings remains at 6.

-Closure of all sports facilities. Except for professional athletes.
Coverage of municipalities with more than 50,000 inhabitants:
During the weekend and holidays the following municipalities will be confined perimetrally: Valencia, Alicante, Elx, Castelló de la Plana, Torrevieja, Torrent, Orihuela, Gandía, Paterna, Benidrom, Sagunt, Alcoi, Sant Vicent del Raspeig, Elda-Petrer and Vila-real

These measures will in principle be in force until 15 February.