Starting Point: Beginning our itinerary in Calp, we leave in direction of the N-332 to Alicante (roundabout Refugio del Viento), we cross the tunnel and we follow the signs towards the Train station/ Sierra de Oltà. After about 1 km we pass the train station and carry on until a crossroad. We keep going in direction Monte Oltà- Zona de Acampada (camping area). The road covers 1'2 km. More and reaches the camping area, in the highest part of the mountain.
This family walk to the Chapel of Sant Francesc is a simple route covering a forest track that connects the camping area of Oltà with the Ermita Vella de Sant Francesc , located on a natural balcony with magnifecent views over the Mediterranean, the Rock of Ifach and the coastal mountains of Alicante.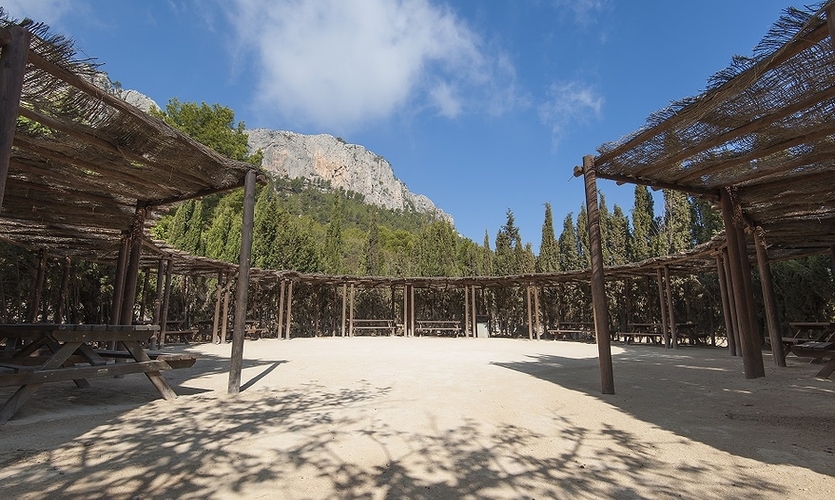 From the camping area next to the parking we cross a chain preventing the passage of vehicles, where some white and yellow signs of the PR track appear. The path climbs parallel to some stone terraces and after 2' it connects to a forest track where we will turn leftwards. If we keep walking, after 5' we will find an intersecting track with wooden signposts. We will take the left path: La Canal and Oltà Nord 1750 m.
We follow the curved path going upwards and after 10' we find a chain regulating the passage of vehicles. From here we will have a wonderful view of the Rock of Ifach and the point of the Cape of Moraira to the North.
After 15' we pass a fountain and then a water tank where there is a wooden post marking crossroad We follow the path to the left, signalled Ermita Vella 750 m.
After 25' we discover a new intersecting track with another wooden post. To the right: Circuit principal. 2250m. Cim d'Oltà (Main circuit. 2250m. Top of Oltà); we take the track to the right and after about 1' we arrive at the Ermita de San Francesc or Ermita Vella, where there is an area with a drinking water fountain, toilets, tables, shades and bins. Furthermore, the place offers a wonderful panoramic view of the entire Calp, the salt flats, the Rock and on bright days, even Ibiza and Formentera.
Leaving the pine forest here, in the southern face of the mountain we notice how the sun is stronger and the esparto grass is abundant. Lastly, to return we will repeat the itinerary back to the camping area.