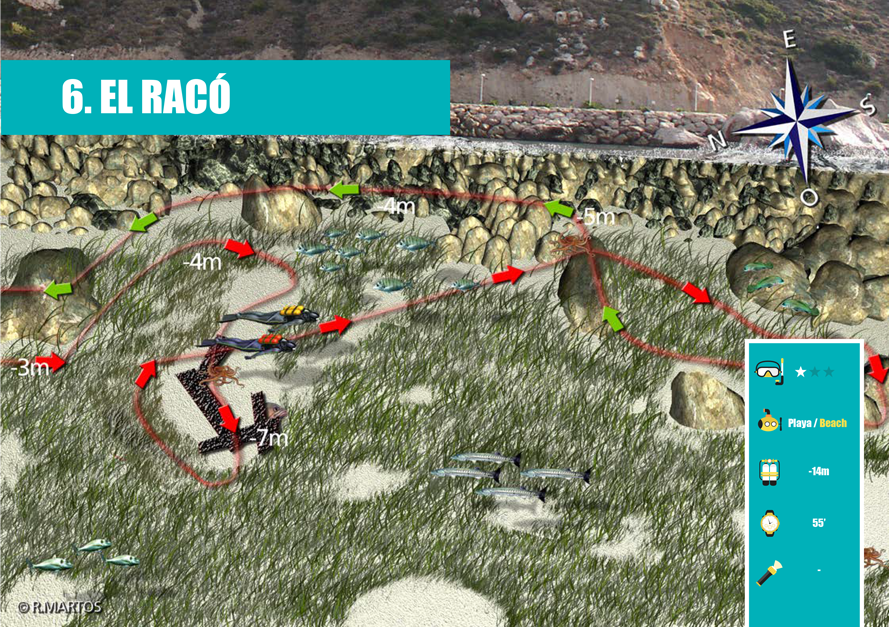 At the foot of the Peñón de Ifach, where the path begins, we find Cala el Racó, a beautiful pebble beach. Its southern orientation, sheltered from the easterly winds, and its exceptional quality, both in terms of visibility and life, make it an ideal place for simple dives, which is why it is also very popular with beginner divers.

Entering from the beach and following the wall on the left, heading approximately 180º, we find a shallow seabed with plenty of rocks on one side and posidonia meadows on the right, a seabed that descends gently until at about -5m and once a large sandy clearing appears between the posidonia, We enter it and follow it, turning off to the right, heading approximately 220º, where we will soon find the remains of a fishing boat at about -7 metres, among which there is usually some grouper and conger eel.
It is worth stopping for a while to visit these remains and then return to the wall on the left and continue on a 180º course until we see the rocks, this time larger and more scattered, increasing in depth until we reach a last large rock at -14m, where we reverse direction and start our return, although when the rocks appear again, this time to our right, we will go over them, at a depth of between -6 to -3m where we can entertain ourselves in the innumerable cracks and holes they generate, and among which there is abundant minor but colourful life of thrushes, fredis, maidens... to finally reach the starting point.

During the dive we will be careful to look towards the surface from time to time, as if we are lucky we will be able to see shoals of sea bream.