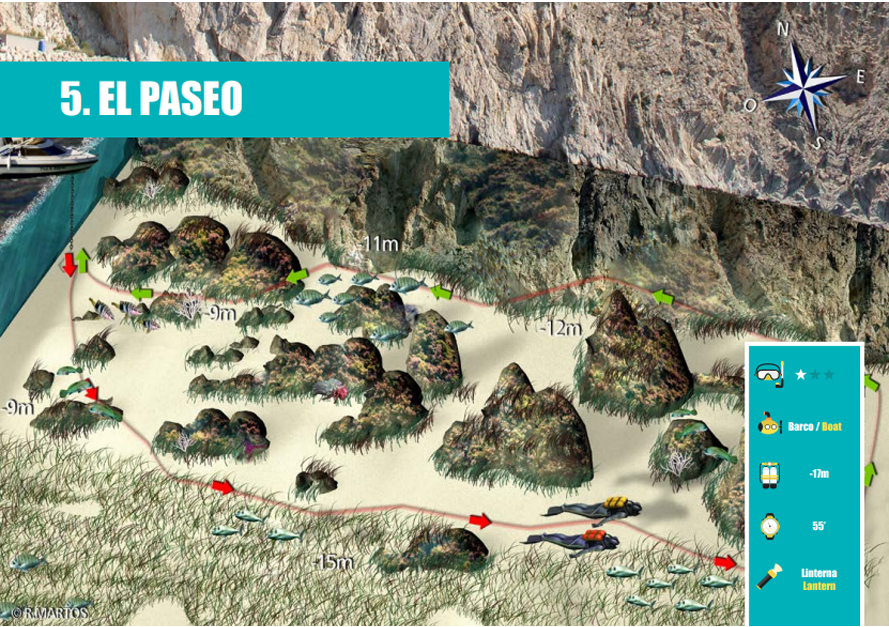 At the end of the Príncipe de Asturias ecological promenade and under the colossal cliffs of the Peñón de Ifach, we anchor the boat at about -10mts and go down the anchor headland to open out into the sea, perpendicular to the wall and gaining some depth, advancing then with an approximate course of 100º parallel to the wall. This first section of the dive is characterised by a seabed with an abundance of posidonia meadows and the typical species that usually inhabit them, such as salps and thrushes, although alternating with medium-sized rock formations where we can find moray eels, corvinas, serranos, octopus... making for a very entertaining route.
Shortly before reaching the halfway point, we will approach the wall and begin our return, which will be to our right. Now the stones close to the wall are much larger and form beautiful backlights, as well as serving as a refuge for different benthic species such as the scorpion fish. There are also attractive tears that fracture the wall in the form of large scars, where gorgonians, ascidians, sponges and anemones, among other species that are common in shady areas, find shelter.
It is a simple, but undoubtedly very rewarding dive, suitable for divers of all levels where fun is guaranteed.