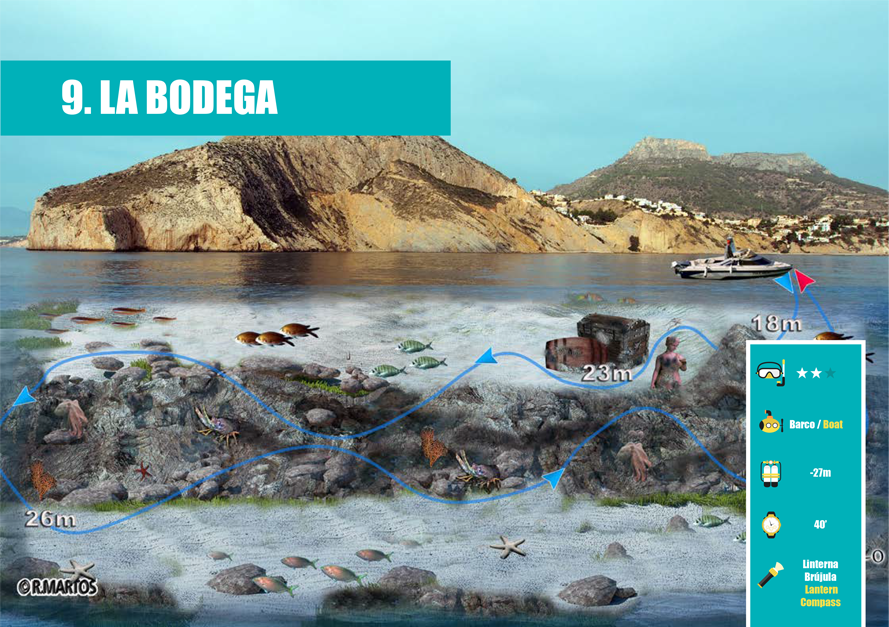 Leaving the port of Calp in the direction of the morro de Toix, when we find ourselves in front of the Gasparet cove we arrive at this new dive site. This is an entirely submerged rocky bar with the highest point at -17mts and the deepest part at -27mts.

We descend down the cape and from the apex of this mountainous formation we drop down its slope to its southern side. We will soon come across a curious setting of chests, casks, amphorae and a statue that will transport our imagination to a suggestive scene reminiscent of classical times. It is worth walking through this curious setting to then continue on an E course following the wall of the bar, which will be to our left.

The bar rests on a sandy bottom, already at -26mts, so it is interesting to stay close to it while we check out the huge number of holes and cracks in the rock that always harbour life, whether it be the secretive octopuses eternally hidden behind their barricade of small shells and stones, or the always striking lobsters that show off their long antennae and that always find this bottom a comfortable place, as given the considerable depth, the water is usually cool.
At some point during the dive we may have the opportunity to approach some submerged cages that house bottles of wine, which undergo a peculiar and exclusive ageing process here, and which we may even be able to savour at the end of the dive. During the course of the dive, the clouds of fish come and go like castanets everywhere. There are also frequent encounters with shoals of bream and salps as well as more territorial specimens of thrushes and serranos.

The bar is profusely covered with algae and the occasional small gorgonian bears witness to the possible presence of currents in this area. It will be necessary to keep an eye on the pressure gauge and the computer to plan the route and to be able to start the ascent and, if necessary, comfortably stop at the starting point.