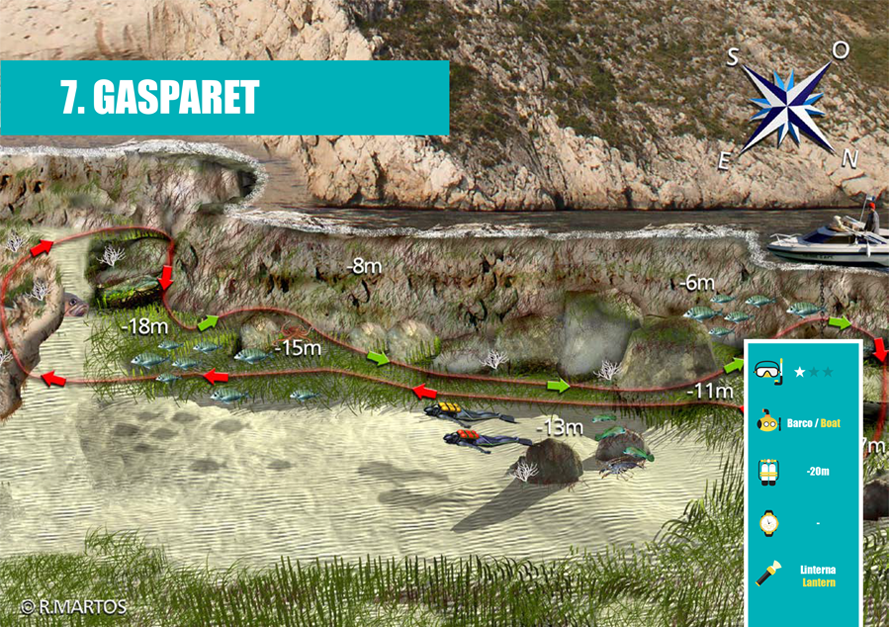 Very close to Puerto Blanco we reach Cala Gasparet by boat and drop anchor at a depth of about -8 m. We descend along the anchor headland to find a bright seabed with abundant posidonia and sandy clearings.

Heading towards the wall, although without reaching it, we find a slope populated with posidonia (where we may find some nacre), which we leave to our right, and we follow the slope towards 140º, and gradually gain depth until we reach a point where the slope turns to the right and becomes entirely rocky in the form of a pronounced cut. A little away from the wall there is a large rocky formation in the form of an island, at a depth of about -19mts, with numerous holes and crevices where we can stop to observe the numerous fauna that populate it, such as moray eels, elusive groupers, the odd sea cicada and gorgonians.
Depending on the availability of air, after turning around, we will start the return journey close to the wall, which is now on our left, and observe the colourful backlighting. The wall is covered with yellow anemone and sponges, and nudibranchs such as the Swiss vaquita are frequent. Finally, the slope is once again covered with posidonia until we reach the starting point.